Watch Amrit's weekly video – Preparing for the April TTEC meetings
Click on the "CC" at the bottom of the video to see subtitles in various languages.
---
April TTEC
Reminder of proposal timeline, and overall flow – Please see the infographic below for the key dates associated with the April TTEC meeting. We will be posting proposals in Sutra in the next few weeks for everyone to comment on. And we will be sharing the dates and times for the language specific pre-TTEC calls – where the proposals will be discussed and suggestions given.
Moving to just 2 days, 2 time zones – Knowing that most of us are very busy, we are going to try to consolidate the meetings to 2 days long, instead of 3. We will still have 2 Tracks, to have times available for all timezones – with the EU/Asia timezones meeting on April 8th and 10th, and the EU/Americas timezones meeting on April 9th and 11th.
Musicians, note takers, facilitators wanted – the more people willing to help out during the meetings, the smoother they will go! Please email Manou if you are willing to help out as a musician (leading a meditation and/or Long Time Sun), note taker or facilitator (in English, Spanish, French, German, Italian, Chinese, or Portuguese!).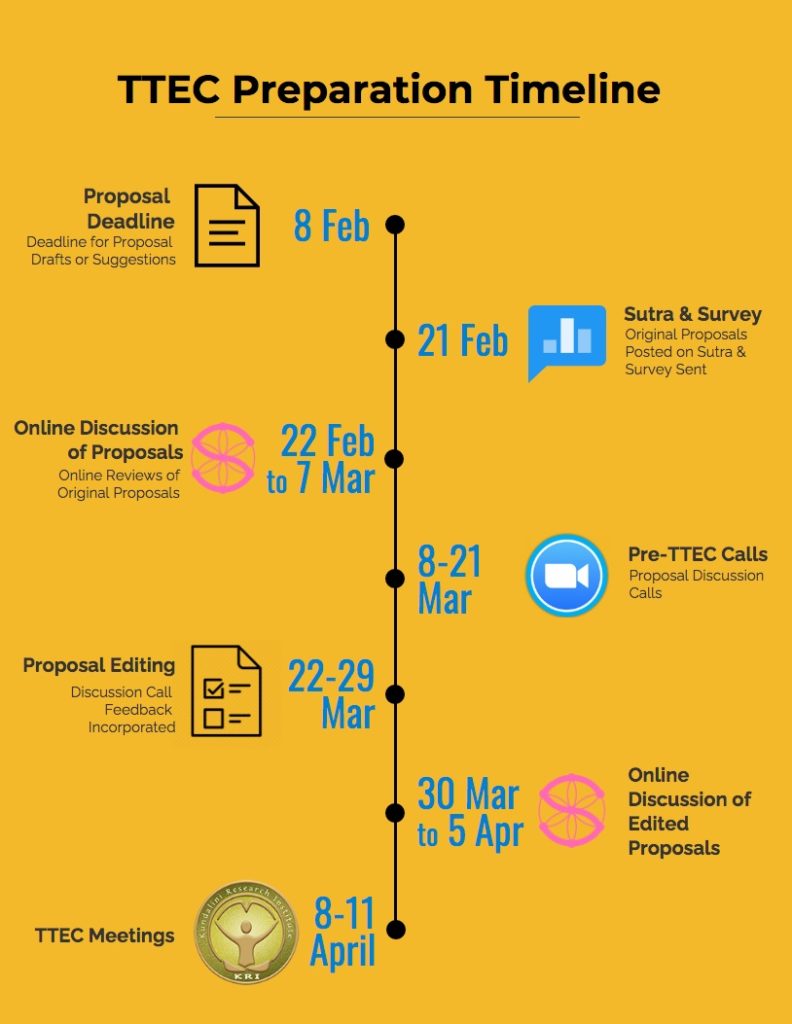 ---
Please tell us about your Online Level One training experiences!
The Level One Curriculum Committee is working to draft a policy regarding online Level One training after COVID. Please take 1 to 3 minutes to let us know your experiences and thoughts regarding online training in Level One programs. The survey is in multiple languages – you can switch the language with the menu at the top-right corner.
---
Upcoming KRI e-Learning Courses for you and your students:
Friday, January 29. 12:00-13:30 EST (New York)
Join our worldwide faculty as they share their favorite & greatest KY teaching from their heart to yours; Yogi Amanbir brings his sense of humor, uplifting music, and extensive knowledge of the healing field into every class. He is known for holding a welcoming space for all cultures, genders, orientations, and races to elevate in communion.
---
Friday, Feb 5. 11:00-12:30 EST (New York) Cost: Free
Secrets of the Kundalini revealed. How Eastern Medicine and Ayurveda reveal the origin of Kundalini energy within the body and how this inner elixir restores health and renews consciousness. Dr. Khalsa is a long time health care provider, acupuncturist and energy healer and has helped thousands of people to restore their life force and renew their health. Her commitment to supporting worldwide Kundalini Yogis in keeping the treasure of Kundalini energy within them renewed shines through in every offering.
---
Online, Pre-Recorded Content for your Level One Programs
Use this amazing content in your Level One Training so your trainees can back up their Kundalini Yoga teaching with research! Ready to be shared with your Level One, this presentation reviews the existing published research on Kundalini Yoga and how meditation leads to self-regulation. Make sure your trainees have that elevator speech prepared; can they explain the research backing up what we do? Give them this important tool they need to help them thrive as yoga teachers. Special price, $88 dollars, useable for two years. Email us for discounts based on location – [email protected].
---
Update from Just Outcomes about the Compassionate Reconciliation process:
Read the English Update
---
Kundalini Yoga in the News
Read – https://www.shape.com/lifestyle/mind-and-body/what-is-kundalini-meditation