---
Shifting focus on KRI's trainings to pedagogy research and to supporting newer trainers; and Mastery of the True Self book – 54 kriyas, 27 of which have never been published before, great for your more serious students, support for them improving their discipline.
---
TTEC follow-up
The Academy has voted to approve Proposals #1 and #2 – the simplification of the ATA paperwork and the restructuring of the roles of Inters, Associates and Professionals in the Academy. 
The Draft new Code of Ethics was vetoed by a few trainers, and so additional conversations will happen with them in January.  Once the next steps are clear for that proposal, you will be informed. 
Find the full voting results here.
As for the ATA changes, Hari Charn Kaur and Siri Sahib Singh along with the Professional Development Committee have begun the plan on how to implement them.  At the Regional Meetings in February we will discuss the plan with members of the Academy and begin to implement in March.  If you need help with an urgent situation regarding the new structure and policy please write to Hari Charn Kaur at [email protected]. Thank you
---
Decision making principles
Thank you to all of the trainers who gave input into the Principles.  We are now working with Just Outcomes on the next steps on how we will apply these principles to moving towards important decisions in the Academy and will have updates for you in the new year.
---
Regional Trainer Meetings
Last week a dedicated email went out to all trainers with detailed info about upcoming regional trainer meetings, trainer forums, and global summits. 
If you have any questions, please email Siri Sahib Singh! 
The Survey below is designed for you to pick the date and time for the first 2022 ATA Regional Meetings in February. Please click on the Button, go to the region(s) you will attend, and mark ALL the times that work for you:
https://www.surveymonkey.com/r/JCXNJFL
---
IMPORTANT REMINDER – L2 LEADS
Level 2 leads, please make sure you remind students in your Level 2 programs that they must spread out the 5 modules over a minimum of 2 years!  With so many Level 2 programs being online and hence easily accessible, we are seeing more students applying for their Level 2 Practitioner certificates with all 5 modules completed too quickly!
READ here the Certification Policy
---
Reminder – nominate someone as a potential KRI 2022 Outstanding Achievement Award recipient.
If you know of anyone (trainer or not) who has served the promulgation of Kundalini Yoga, please nominate them at the bottom of this webpage.  
KRI will bring the nominations to the ATA to vote as to who the 2022 recipient(s) will be!
---
E-Learning
Thank you ALL Trainers for your contributions in the E-Learning Center courses in these past 2 years! We continue to invite you to participate and share your wonderful knowledge and area of specialty, as we grow our offerings. If you would like to present a course please write to [email protected].
During the month of December, we have a special 30% discount on all courses!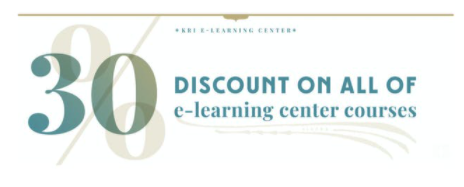 ---
Upcoming courses in January:
Join us for a FREE Webinar to Meet the Authors of Cultivating Happiness, Resilience, and Well-Being Through Meditation, Mindfulness, and Movement A Guide for Educators. 
Wednesday, January 19th @7-8 pm Eastern Time (New York)
Live Session; Saturday, January 29th @ 8-10 am Pacific Time (Los Angeles); 15:00 GMT (London) FREE and keep replay for 72 hours or purchase the recording for $30 after 72 hours.
---
Career Opportunity at the Office of Ethics & Professional Standards (EPS)
EPS has opened recruitment for a new full time remote position, "Grievance Enquiry Lead (GEL)".
This individual will lead each Grievance Enquiry Planning Team and be the primary individual conducting investigations/interviews for complaints submitted to EPS, KRI, 3HO-IKYTA, and SDI. While the grievance procedure will be the primary role, the GEL will also be involved in various EPS outreach and educational initiatives. This position presents an opportunity for an interesting, challenging, and rewarding career working in tandem with our sister non-profits (KRI-3HO-IKYTA-SDI) to address concerns, helping to build more ethical communities around the world, and playing an important role in helping to expand the reach of EPS via educational and communication initiatives.
EPS encourages qualified members of the KRI Aquarian Trainer Academy, the SDI Ministry, and our worldwide Kundalini Yoga/Sikh Dharma communities to apply. For details and to apply, see:
---
Have a Super Happy Holiday Season and New Year!
This will be the last trainer update email for 2021. 
Everyone at KRI send you a lot of love and blessings, and we'll see you and talk to you again in the New Year!