---
Watch Amrit's weekly video – TTEC schedule and KRI's continuing holding of the same standards but with more compassion
4 Oct 2021 Trainer Update – emerging new directions and TTEC from KRI E-Learning Center on Vimeo.
---
Reminder – TTEC meetings coming up
Thursday Oct 28th –

Proposal to Simplify the ATA paperwork

: Track 1: 10am-12pm NYC time (EDT) and Track 2: 7pm-9pm NYC time
Friday Oct 29th –

Proposal to Redefine the Roles in the ATA:

Track 1: 10am-12pm NYC time (EDT) and Track 2: 7pm-9pm NYC time
Saturday Oct 30th –

Proposal to adopt a new Code of Conduct for Kundalini Yoga Teachers

: Track 1: 10am-12pm NYC time (EDT) and Track 2: 7pm-9pm NYC time
---
Register NOW for tomorrow's Circle discussion around Hierarch
Just Outcomes will facilitate circles with trainers interested in deepening the conversation we started at the last Global Summit.
The prompt for these calls will be: "KRI is in a process of deep reflection on two intersecting issues: the role of hierarchies within the Academy, and how best to hold space for Trainers' diverse relationships with the legacy of Yogi Bhajan. As the ATA moves towards decisions related to these issues, what are the most important principles that need to be upheld in these decisions?"
There are two-time options, both on October 5th (October 6th for Asia and Australia):
Time Option 1: 7:00 – 10:00 AM, PDT (Los Angeles Time)
Time Option 2: 4:00 – 7:00 PM, PDT (Los Angeles Time)
---
How to become a Mentor
As you may know, we have recently implemented a new pathway for becoming a mentor. You can watch some short videos explaining this new pathway (on YouTube so with automatic subtitling in many languages), and/or read about it here, in the "Mentor" section. If you have any questions or concerns, please contact Sarb Jit.
---
Quarterly Regional ATA Meetings
As part of KRI's response to the ATA's expressed need for more localization and distributed authority, beginning in early 2022, KRI will sponsor quarterly Regional Meetings for Trainers and one Global Trainer Summit for all of us to come together.
In place of the single, annual, in-person trainer forums in many places around the world, this new system will give all trainers 4 opportunities per year to come together. Each region will have two online and one in-person (COVID permitting and with an online option where possible) meetings per year. And we'll continue to have one global trainer summit online each year.
The Regional meetings will be an opportunity to: connect with trainers who serve in the same the region and address regionally specific issues, to discuss proposals for new policies that will be voted on online later, for discussion on topics of common interest, for orientation to the Academy for new trainers, and to connect with KRI staff.
---
Free, limited counseling available
In light of the conversations that have taken place within the community over the last 18 months, the Siri Singh Sahib Corporation has approved funding for a counseling initiative to help support members of the community in their processes of healing.
The program's goal is to provide support for community members who wish to seek counseling or therapy related to their experiences in the 3HO community. Eligible participants will be reimbursed up to $2,000(USD) per person for their out-of-pocket counseling or therapy expenses.
Additional details about this program can be found on this information and enrollment form (translated versions of this will be available shortly). We hope this counseling support will be helpful for all who use it. If you have questions about the counseling support program, please email [email protected].
---
KRI : Bridges with Kundalini Yoga Therapy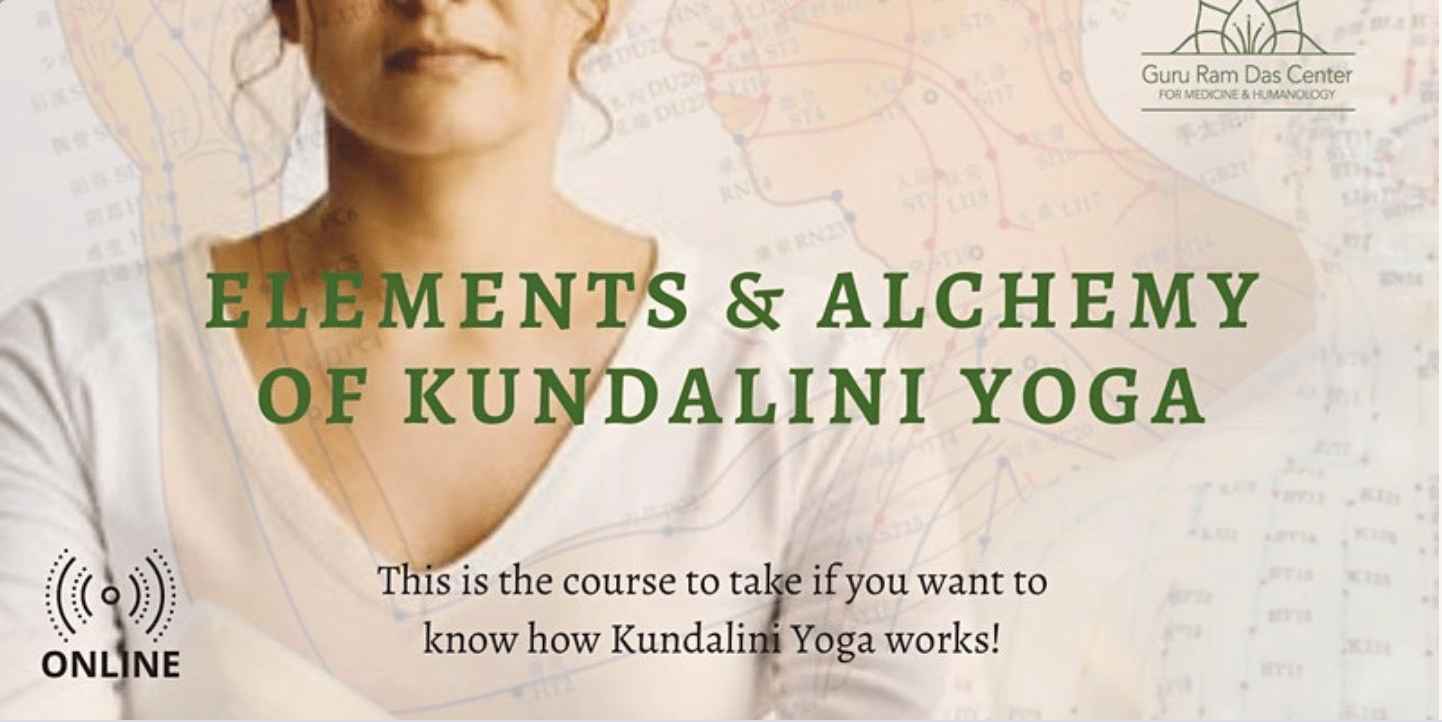 We are so pleased to announce that KRI supports Kundalini Yoga Therapy as an emerging bridge with public health, bringing certified yoga teachers into healthcare. If you are a Kundalini Yoga Therapist certified with IAYT or have a program that is credentialed or in process, please reach out to us so that we can collaborate and share your courses periodically. ([email protected])
If you want to try Kundalini Yoga Therapy, please look at Elements & Alchemy, offered by the Guru Ram Das Center for Medicine & Humanology as a pilot for our Bridges to Yoga Therapy program. Don't delay, course launches Oct. 7th.
---
Free Webinar for Trainers with Gurumukh Mark Harris

All Trainers are invited: Prevent burnout and deepen our self care to move towards truly helping this world in these challenging times. A special free webinar for our community to meet Gurumukh Mark Harris and understand yoga as a movement for social change! Once registered, the replay will be yours for free if you watch it and can be reused as material for level ones to explain outreach to specialty populations, and how to prevent burnout for yoga professionals.
---
The Experience of Awareness: Joy, Energy & Healing
As trainers we all want to be effective, authentic, and elevating. This global pandemic has raised our levels of anxiety, fatigue, and stress by 40-70%. At the same time, it brought a great disruption that led of us many to look inside to clarify our values, to find the courage for a new level of commitment and integrity, and to find meaningful actions to connect with others and make a difference in our world.
All teachers are invited: Deepen your meditation practice; Expanded Awareness for Joy, Energy and Flow; Peace and equanimity from anxiety and overwhelm.

---