Watch Amrit's weekly video –  Sharing my excitement for this time of creativity and innovation. 
Click on the "CC" at the bottom of the video to see subtitles in various languages. 
These Trainer Updates will now be biweekly.  Next Update November 23rd.
---
Global Online Trainer Summit 10-13 December
Culture, Community, Communication – Healing into the Future Together.  Two tracks with alternating days for different regions and time zones.  Just Outcomes, the group hired to assist our Compassionate Reconciliation process, will be presenting and engaging with participants on the first day of both tracks.  Meet the team, get some questions answered and begin the work. If you want to read and learn more about Just Outcomes and their work please click here: https://www.justoutcomesconsulting.com/.  Registration will open Friday November 13th.
---
Global Teachers Forum November 20-21, 2020
Hosted by KRI AND IKYTA and titled, "Emerge Together: Courageous Dialog for Connection and Change. A space for all KRI-Certified Kundalini Yoga teachers worldwide to envision a new future together –  offered in multiple languages. These conversations will utilize a format that is non-hierarchical, collaborative, respectful, deliberate, mindful, and will prioritize the process involved in deep listening, intentional speaking, and courageous creativity – with teachers all over the world.
Register here: https://kyteachersupport.org/global-teachers-forum-2020/.  Please also share with your Level One graduates!

---
April 2021 TTEC meeting
Planning has begun for the next online, global TTEC meeting.  If you'd like to be part of planning the agenda, please email Amrit Singh.  Also, please see this planned timeline below.  Mark your calendars for April!  One of the Tracks will be April 6, 8, and 10.  The second track will be April 7, 9, and 11.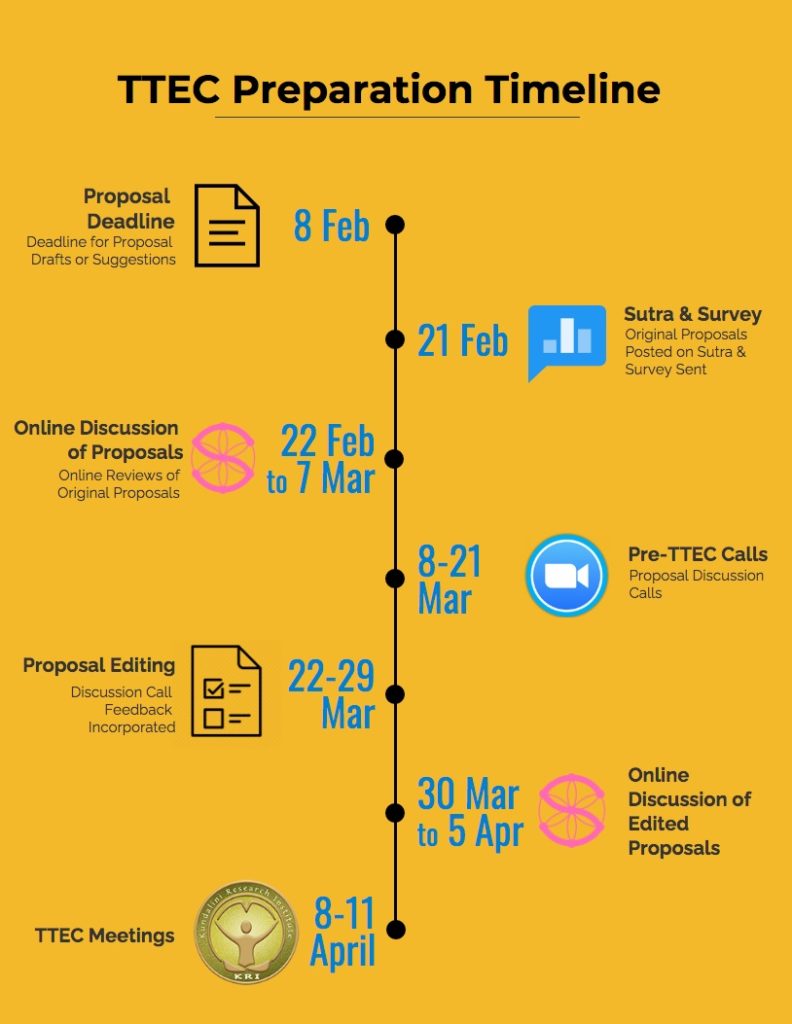 ---
---
---
Join Pavan Dev Kaur for three more classes 10 Nov thru 24 Nov at 17:00-19:30 New York City time.
Today we have the incredible technology of Kundalini Yoga but how did this technology come about? In this series, we will dip our toes into the river of history, and get a glimpse of where "yoga" began, how it changed and developed over time, and how it got to where we are today.
Purposeful Play of Polarity: Through the lens of Japji Sahib with Priya Jain
November 14th, 12:00 -14:30 PM EST
It may seem like the world has never been as divided and polarized as it feels right now! But the play of polarity is as eternal as life itself! In this webinar, Priya Jain invites you on a cosmic ride with Guru Nanak, as he guides our understanding of the "purposeful" play of polarity, through the lens of Japji Sahib.
Yoga and Stress Regulation, Tolerance and Resilience: The Underlying Science with Gabrielle Lewis
November 18th, 11:00 AM – 12:00 PM EST
Gabrielle Lewis, mental health graduate from the University of Durham and researcher, will discuss what stress is, the physiological mechanisms that are involved, as well as the research on the impact of yoga on stress, and how this can inform your students when presenting at teacher trainings.
---