EU TTEC 2020 Report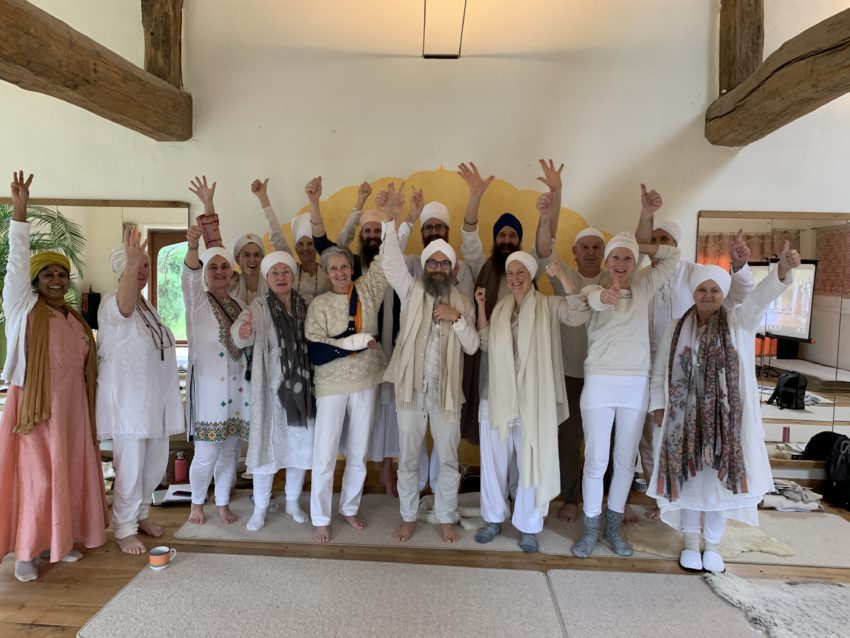 Participants: Amrit Singh KRI, Guru Jivan Kaur and Dharma Singh (members of the board KRI), Karta Purkh Kaur, Kartar Singh, Amrit Kaur, Amrit Singh (EPS), Ardas Singh, Sat Nishan Kaur, Hariang Kaur, Tiaga Devi, Tiaga Dev, Bachita Kaur, Seva Kaur, Karta Purkh Singh (notes), Sat Shakti Kaur, Janaa (-16:00), Sat Sangat Kaur (Zoom), Sotantar Singh (Zoom)
Note – Decisions and approvals as indicated below mean that the EU TTEC has decided or approved something.  Many of these issues will also need to be discussed by the South American TTEC in Feb 2020, and then by the Global TTEC in April 2020 (which because we are in a transition into these Regional TTECs getting going will have to be the platform for Asian and North America this year).
Decisions:
• Should KRI research and consider setting up an EU office? If so, where?

o Strong support for this, but needs more thought to really outline exactly what it would do, how much it would cost, how it would relate to the existing National Associations, and how balance centralization vs. decentralization. A committee was formed to work on these issues and report back with concrete proposals next year.

• Should we move the 2021 EU Mela to the 3 days before the EU TTEC?

o Support for this, with the recognition that the participants are the main ones who need to make this decision

• How should we deal with exceptions (for the ATA and program curriculum issues)?

o For curriculums – there should be no exceptions given. If our policies are lacking, we can change the policy.

o For ATA exceptions, run these through the existing Certification Committee and their decisions should be public

o A committee (The same committee who will work on the questions regarding the EU office) will address how the various advisory boards of KRI (particularly the Certification Committee and the board of directors) are populated

• With whom do you need to be compliant (like Yoga Alliance in the US, Australian Yoga Alliance in Italy, Insurance companies in Germany)? And how do you want KRI to help you in that?

o This was discussed as part of the EU office discussion as an important topic to be further researched by the committee

• Should we set up rules or policies about "Make up work" – when a student misses a portion of the required 180 classroom hours of a Level One program?

o Leave this to the discretion of the lead trainers

o But add emphasis on this by adding it as an expectation to mentors (that they are addressing make-up policies with their mentees), that it is asked in the lead interviews (what is your make-up work policy), and clarified in the Level One contract

• Should we try to move our culture and perhaps policies so that lead trainers expect and/or are required to receive ongoing feedback and review?

o It is important that KRI better enforce the policy of attending a trainer forum at least once every two years, because connection with sangat is a good way to keep everyone contained.

o o Most people present felt that this alone is enough. About 5 felt is was not sufficient, and they can form a committee to brainstorm additional proposals for this and bring it back next year.

• Is there interest in setting up a green or eco-consciousness committee, to advise KRI?

o Yes. A small group was formed for this. Open for others as well!

• Interest in setting up a "futurists" committee – really looking at big picture issues?

o Email Amrit if you are interested in long term visionary discussions

• New Mentor Pathway

o Approved with the following 2 changes:

o Increase the number of possible mentees gradually over a given amount of years

o Give the new version a try and reevaluate after a given time (2-3 years)

• Expanded roles for Level One Associate and Professional Trainers in 21 Stages

o Approved with the following 2 changes:

o An associate can teach in the course but the lead still needs to hold the space (meaning being on site)

o The level 2 module "mind and meditation" has to have been completed

• Updated Applicant and Associate requirements to allow a balance of L2 programs and teaching hours

o Approved with the following 2 changes:

o The term "Programs" needs to be corrected to "modules" in the new version

o Part of the additional teaching hours must be made up of longer format workshops, not just lots of 90 minute classes.
Other points:
• KRI is doing a big review and update of legal paperwork and needs to review many things (new Level One, Level Two and 21 Stages contracts, insurance requirements, student privacy and GDPR compliance, and KRI storing some student records) with all trainers, particularly in Europe to understand what will work and how to legally and correctly do these things. Amrit will schedule Zoom calls to discuss with the EU leads and NYKTAs as appropriate to start with.
• The new L2 Manual distribution policy

o KRI needs to re-look at the pricing for the digital versions of the L2 manuals

• Transitioning away from sharing Level One Program royalty with National Teacher Associations

o The conversations between KRI and the National Associations are ongoing. For now, trainer can continue to contribute as they have been to their national associations.

o KRI and 3HO Germany need to sit to dig into what KRI work is begin covered by the Association, and then from there see between KRI and other NYKTAs what they would like to take on and how to fund

o KRI is in agreement that it should be funding work that it "should be doing." The method of such funding and oversight and reporting are all important details to work out.
How to Increase Engagement and Participation?
Input was gathered about how to increase engagement and participation in ATA decision making, summarized below. And a small group agreed to keep working on it.

o Better Communications

■ Less advertising from KRI (especially L1 and L2 spam) – because that conditions trainers to ignore emails from KRI

■ Make a picture of this, and report, send it to all trainers, make them enthusiastic

■ Sutra – more manageable eg clearly marking what is info, what is discussion, and which are decisions

■ Extra reach out to interns and associates to participate

■ Have mentoring leads encourage their mentees to participate

■ Involve the National Teacher Associations

■ Tell L1 students more about the ATA

■ Invite all ATA members at the beginning of December

■ Add a header to the Trainer Bulletin, inviting trainers to take 15min or so to read this very important email

■ Get information about TTEC when you enter the Academy

o More Clarity

■ A clearer, overall vision

■ A clear overview of all the projects that KRI is working on and how to get involved.

■ Clarify the process of KRI

o More Accessibility

■ Make these meetings more accessible, easier to get to, help with transportation (like an online ride board with flash info on how we arrive and travel arrangements)

■ Make it easier to participate

■ Meet at a central point (like the local airport) and all go together on a bus to the TTEC meeting

■ Have the TTEC meetings in a place that is cheap and easily accessible

o Reasons why people come

o Other ideas

■ More small group discussions (outside TTEC), local discussions that feed into TTED, regional parts, maybe with ambassadors to the bigger group, supplied with "pre-digested" and attractive information in small portions

■ Have the TTEC meetings be a mixture of discussion and learning from each other
Future Dates and Locations!
• Next EU TTEC will be 12 Jan 2021, in Sweden (Navjeet Kaur's place in Southwestern Sweden)
• Global TTEC meetings (which they are all encouraged to attend)

o 21, 22 April 2020 – Espanola

o 10, 11 May 2021 – Amsterdam

o 2022 – either back in Espanola, or maybe South America

• EU mela and Trainer forum

o New location – Domaine de Chales

o Same dates before the Yoga Festival – mela 20, 21, 22 July. Forum 23 and 24 July, 2020